Contact Information
I am part of a practice group at Ashburn Psychological Services. If you would like to make an appointment with me, please call 703-723-2999 and ask for an appointment with Dr. Jerome. If you would prefer, you can contact me directly at DrAl@draljerome.com and I will help you schedule an appointment. Appointments are available Monday through Friday, with some evening appointments available.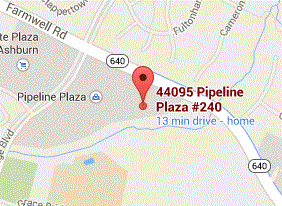 Ashburn Psychological Services
44095 Pipeline Plaza, Suite 240
Ashburn, VA 20147
Phone: (703) 723-2999
Fax: (703) 723-4144

Ashburn Psychological Services, conveniently located between Sterling and Leesburg, is readily accessible from any location in Eastern Loudoun County.
Free Initial Consultation
If you have questions about therapy or would like to talk with me prior to making an appointment, I would be pleased to speak with you for a free 15-minute telephone consultation. Send an email with your question and phone number to DrAl@draljerome.com and I will get back to you.
Insurance and Payment Information
I do not participate in any managed care health plans, and full payment for services is expected at the conclusion of each session. You will receive a detailed receipt for services that you can submit to your insurance carrier for reimbursement.